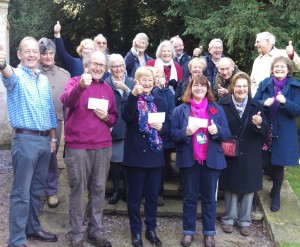 Gathered at St Mary's Bramshott this morning, our three nominated good causes each received a cheque for £2,812.50 from the funds raised at 2016 Bramshott Open Gardens (BOG).
Craig McGregor, chairman of the organising  committee, made the presentation and thanked the hardworking gardeners, the army of volunteers, the local business sponsors and everyone in the village who got involved and helped make the weekend such a success.
Pictured receiving the cheques are Adrian Bird (Sunken Lanes Project), Vivien Chamberlain (St Mary's church), and Jill Meacher (Macmillan Midhurst).
2016 BOG highlights:
856 tickets sold (594 Saturday, 262 Sunday)

Tombola £748

Tea Tent £1560

Outwoods Teas £842

Garden Teas £786

Sponsors & Donations £1,950
Many thanks are owed to everyonem especially the tireless organising committee: Tony Rudgard, Craig and Lu McGregor, Rita and Chris Holden, Kay Murray, Cathy and Jeremy Scholfield, David Levy, Annie Hill, Mike and Mandy Knowles, Phil Simmons, Angela Glass, Ken Lucking, Zoe Wright, and Richard Loversidge.
Thank you also to all the gardeners who worked so hard to create such inspiring and beautiful gardens, and also those who provided much-needed refreshments for our visitors. 
Here's to BOG 2018!